Newsboy- Pouring The Wax In The Mold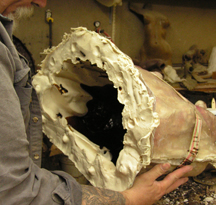 February 15-21, 2005
Sculptor Bridgette Mongeon has documented the entire process of creating a figurine of a newsboy and a life-size bronze sculpture. Watch the artist work through these posts. In this blog, she has also included information for students and teachers. In the previous post, we learned a little about the making of the mother mold in fiberglass.
If you are lost and want to go back to the chronological running list of posts, follow this link.
---
It is taking us some time to make all of the mold for the Newsboy. We took several of the mold pieces to the foundry to pour waxes. Once they are poured, we will be able to take these waxes back to the studio to work on them a bit more. Within the next few weeks the entire wax will be at the foundry, and at that point it will be ready to go into metal.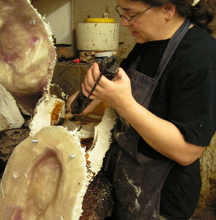 Here we are at the foundry pouring the wax into the upper torso. The wax is very hot. It is poured into the mold and carefully turned to cover the entire upper section. It must be just the right thickness. Any excess wax is poured out before it cools. Not only do we have to pour the wax upper torso, but we also have to pour the right arm, the paper that the newsboy holds in the right hand, the left arm and paper, the brim of the hat, and the papers that will sit on the ground. The lower part of the body will not be poured; instead it will be brushed on. Once the sections, front and back of the lower half, have cooled they will need to be put together.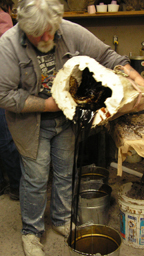 Now that the waxes are poured, it is time to clean up the studio. That way we can be ready to bring the waxes back to work on them. The platform was taken off the floor this week, and it felt so good to be able to have a little more space. I danced through the area. What is left of the newsboy sculpture is lying in a heap on the floor. The original sculpture is lost in the mold making process. I'll soon disassemble him. The clay body parts will be going into a big bin to be melted down for the next projects, a six year old ballerina a two year old little boy holding his truck or Patsy a woman sitting on a park bench. Yes it is a little strange to see a hand melting in the crock-pot, but it is always good to be able to reuse material.

With everything cleaned up in the studio we are ready for the next step, to get the waxes from the foundry so we can make them perfect.