Newsboy- Working the Waxes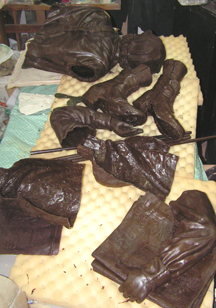 February 22-28, 2005
Sculptor Bridgette Mongeon has documented the entire process of creating a figurine of a newsboy and a life-size bronze sculpture. Watch the artist work through these posts. In this blog, she has also included information for students and teachers. In the previous post, we learned a little about pouring the wax at the foundry.
If you are lost and want to go back to the chronological running list of posts, follow this link.
---
The steps to the bronze process never cease to amaze me. Here are some of the many waxes that came from the molds, of the newsboy sculpture. Over the years, whenever I pour in bronze, I have always worked my waxes. Not all artists do this. Many times the foundry will do the basic work. Now I have my assistant do that part, but I always like to add my own touches to each wax. You can imagine that even though this life size newsboy is an edition of 10 and the smaller newsboy sculptures are editions of 100, each number sculpture in the edition may be a little different. Because there are many pieces to put together for each finished bronze the finished sculpture will have its own nuances to it.

My assistant, Miguel, and myself spent hours making sure that each wax seam was cleaned up and that each piece not only fit to the other wax piece, i.e., front to back but also to each other, i.e,. leg to foot. Though we do a lot of fitting in the wax, some fitting will also be done in the metal.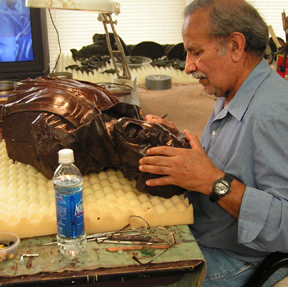 You can see by the many pieces placed upon the egg crate foam, the lower torso was cut up into several smaller pieces. This is done for several reasons. You will see later that the foundry will cut up the sculpture even more. It is important that these pieces should not be too cumbersome through the next steps of the process. Weight and ease of handling will be an issue when the pieces are being dipped or when the metal is being poured.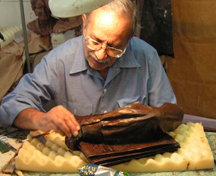 When I finish this part of the wax I will bring the many body parts back to the foundry for the foundry to gate up. Gating up is the process of adding wax vents and pour cups. The master foundry craftsmen want the molten metal to pour very smoothly so they add these vents to facilitate that process.

So, it is back to the foundry for gating up and making the shells.