Saying Goodbye To The PR Intern – Hannah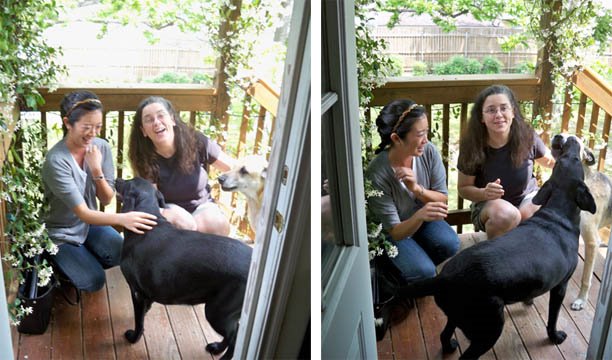 Hannah has been interning as public relations intern in the office. We will miss her. She is changing directions in her career and we wish her luck. Her position is open, and I'd appreciate you passing the word. However please also let others who are interested know "must love dogs" for every day at our facility is take your dog to work day!
Hannah wanted to have the dogs in the picture and I thought on the deck would be great, however trying to get two dogs to pose, when one of them is Sam – black lab, is not easy. So we said, how about at the pond? Yes, it is true when you work here you have a beautiful pond to visit and a meditative place to gain your center. That is my sanctuary. You can even say hi to the turtles and fish. Anyway. Sitting on the bridge of the pond Sam went for a drink and then we were slobbered by a combination of dog spit and pond scum. IKKKKK. And that is the way Hannah was sent off.
Thanks again Hannah for your wonderful work. I hope I can soon find someone to fill your shoes.