SIGGRAPH Conference- Looking For Interviews
SIGGRAPH (Special Interest Group on Graphics and Interactive Techniques) is a very large computer graphics conferences. I have attended many SIGGRAPH conferences both as an attendee and as press. As a freelance writer and a podcaster I'm always looking for interesting new technology to discuss. My added interests this year are also emphasized by being Vice Chairwoman of 3DCAMP Houston 2012. I'm looking for things that might be of interest for our September 29th conference in Houston and artists for our international call for art for "The Third Dimension" Art show.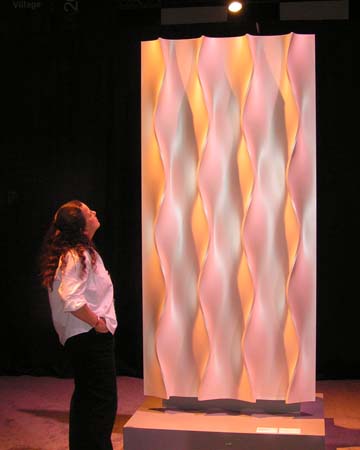 In the past SIGGRAPH has introduced me to some of the most interesting people and technology, and indeed it was the driving force for reference material as I completed an MFA-IA that focused on Art and Technology.
My thoughts on SIGGRAPH and Technology
I thought this might be a good opportunity to posts articles that relate to some of the topics at SIGGRAPH and art and technology that I have written in the past. I'll also list my focus for my up and coming SIGGRAPH trip. If you know of a booth or an artist I should visit, please let me know. At this moment, I am not coming as press, but an attendee, unless someone needs an article or two from the conference, I'd be happy to oblige. My exploration at SIGGRAPH will still be as press, for my freelance articles and podcasts, as well as for a book I have been working on about Art and Technology. I'm just not working in an "official" SIGGRAPH Press capacity, unless someone contacts me to do so between now and SIGGRAPH.
Previous Articles and posts about SIGGRAPH Topics
Mongeon, Bridgette. "Review Pixologic ZBrush 4 Packed with features for both Mac and Windows Users."
Studiodaily (November 2010) 30. pdf
Mongeon, Bridgette. "Exploring Digital Technologies as Applied to Traditional Sculpting."
Sculpture Review. (Winter 2007) 30. pdf
Mongeon, Bridgette. "The American."
Sculpture Review. (Winter 2007) 32. pdf
Mongeon, Bridgette. "Using the Computer and Poser in the Sculpture Studio."
Best of Artists and Artisans online. (May2008)
Mongeon, Bridgette. "A Review of New Technology for the Traditional Studio at the Siggraph Convention."
Best of Artists and Artisans online . (November 2008)
Mongeon, Bridgette. "Milling-An Additional Tool of Advanced Technology For the Traditional Sculptor."
Best of Artists and Artisans online. (January 2009)
Mongeon, Bridgette. "Frankensteinian Art "
Creative Endeavors. (May 2010)
Mongeon, Bridgette. "Antiquities, Masterpieces, Rights of Ownership and 3D Scanning"
Creative Endeavors. (May 2010)
Books
Bridgette Mongeon, contributing author. Digital Sculpting with Mudbox: Essential Tools and Techniques for Artists. Focal Press 2010.
Book Chapters
Bridgette Mongeon, contributing writer. "A Brief History of Medical Illustration." The Digital Biomedical
Illustration Handbook. Author de la Flor, Mike: Charles River Media, 2004.
Podcasts about Art and Technology
Besides writing articles I also have an Art and Technology podcast that I began during my graduate work. I am very interested in reviving these podcasts now that Graduate school is over. I'll enjoy once again having that "fire side chat" with others in the industry.
You can see a list of the Art and Technology Podcasts on my other website Digital Sculpting.net or your open the player and begin to listen
My interests for stories and interviews for SIGGRAPH-
Please note: Conferences are busy places. We can meet at SIGGRAPH and set up a time outside of SIGGRAPH to interview further.
Anything relating to digital sculpting- software, hardware etc.
Output- rapid prototyping advancements, milling, holographic imaging etc.
Art and technology-artists and processes
Scanning
Robotics
Antiquities and 3D
Education of 3D and especially STEAM
Papers relating to psychology and the process of creating in 3D
There is always something new that I get so excited about when I go to SIGGRAPH-what is the cool new thing that will thrill me this year?
Here is a look at a video I found on SIGGRAPH Emerging technologies.