SO EXCITED! A Seated Norma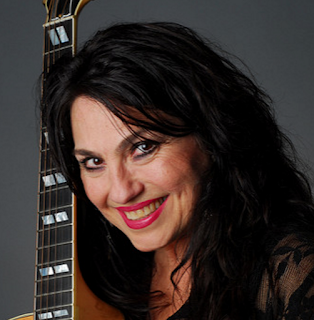 I'm so excited. For weeks Norma's sculpted upper torso and head have been separate from the rest of her body. There are a couple reasons for this. The face takes some time and Norma's hair took forever. ( I'm still seeing her hair when I close my eyes. ) I'm still not done with the back of it. However, some of the hair will change once we get her torso together and her guitar. At times we have even taken Norma off of her pedestal and put her down flat. There is a great deal of smoothing that goes into the sculpting process. It is a tag team. I'll sculpt and then an intern comes in and smooths.
I had other young interns helping in a creative process of creating some of Norma's Jewelry. We have quite a bit of her jewelry that she wore and some we can use in the sculpture. We can make a mold of it and then cast it in bronze with her. Other pieces of jewelry are to delicate to use. So we used her jewelry as inspiration and recreated it. I'm sure the young interns will relish their part of being in the creative process. I love creating learning experiences through my art. I don't know Norma, but I sense she would appreciate that.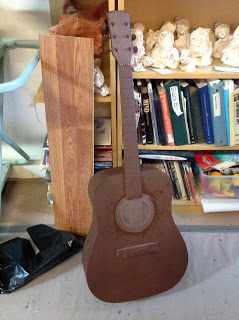 If you remember back a few posts ago, a family member gave us a guitar for us to use in the project. We have to modify the guitar quite a bit. I'm surprised how hard it was emotionally for me to do that to a guitar. I play the guitar and can't imagine destroying one on purpose. But it is for a good cause and Norma will play it forever more. ( I will remember that when I have to drill holes into it to secure it to Norma's body armature.)
The first thing we did was to paint the guitar the same color as the clay that we used on Norma. I find this helps both myself and the client. It is less of a visual distraction while creating and when approving the sculpture. Of course, the few pieces of jewelry that we did use that were Norma's we did not paint. It is a distraction to me, but the idea that it is "her" jewelry outweighs that distraction. The energy that jewelry adds to the piece is incredible. I'm sure you will recognize it when you see the sculpture
Back to the guitar.
We also have to be careful about the hole in the guitar. You can't really have deep holes in bronze as it is a wonderful place for bugs to nest. So, we need a hole without a hole. This is less of a challenge than the other challenge- STRINGS. If you look at most bronze sculptures of musicians you will find there are no strings on the instruments. WHAT? here are artists coming from an artist point of view instead of a musicians point of view. Believe it or not strings are a challenge. They are thin and can be broken off, if created like a typical string. They have undercuts. Undercuts are areas that go in and around, which is difficult to cast. Could you put wire on the sculpture after it is cast? Yes, but lets guess how long that would last before a vandal came and clipped them off. So my goal is to create a guitar like it has strings, but they are part of the guitar body, no undercuts, and solid. Wish me luck, send me positive guitar string energy. It is a challenge, but I'm up for it.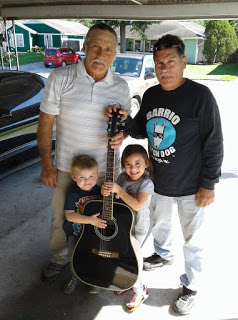 An intern is helping with the guitar while I work on Norma and we are making huge progress. The color or patina that will be put on the final sculpture when it is in metal will also help with us having a hole where there is no hole and showing strings.
For now the guitar sits aside, waiting for me to put the rest of Norma's body on her. I have two days alone in the studio! I love alone time in the studio. Norma and I bond and make such progress. By Tuesday or Wed I hope to have the torso of Norma roughed in and will be able to put her guitar in her lap. Hand, arms and fingers… that is another story. But she is coming along and I am SO EXCITED about getting to work for the next couple of days.
We are moving right along. I would expect that by the time of the Gala, the sculpture will be approved. I hope that we can reveal pictures of it at the Gala, if the family would like. We have our final push to get raise the money for casting. (Please help by spreading the word and donating now. There is a link to pay pal on the main page for the project. Or contact the family and send a check. )  I'm so excited. Sorry, I won't show pictures of the final piece until the family approves it, but I will show sectional progress.  Wish you could feel the bubbling I feel and the creative energy in the studio right now. Oh, Norma I can't wait for you to be here serenading me regularly in the corner of my studio.
---
This is the documentation of Sculptor Bridgette Mongeon who created the Norma Zenteno Sculpture and Kippy for Zenteno Spirit and Barrio Dogs. You can find the process blog for this project at http://normasculpture.blogspot.com/