Monday June 15, 2015
A Sculptor Jumps Down the Rabbit Hole
in Celebration of Alice In Wonderland's 150th Anniversary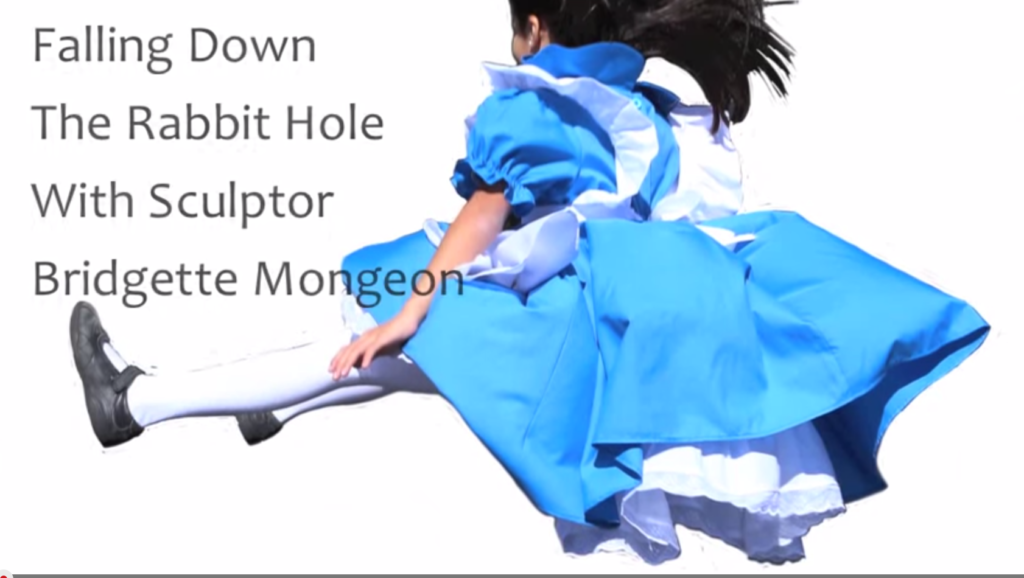 As the world celebrates the 150th Anniversary of Lewis Carroll's "Alice in Wonderland," an artist is creating a special kind of curious adventure. Houston, Texas artist Bridgette Mongeon designed a monumental sculpture of the Mad Hatter Tea Party. She was inspired by the famous sculpture of "Alice in Wonderland" located in New York's Central Park. Philanthropist George Delacorte commissioned that Alice sculpture from José de Creeft and donated the sculpture in 1959.

Mongeon has been working diligently over the last few years to finalize the design to celebrate Alice. The artist is now translating the small, sculpted maquette and digital designs into a ten-foot table that will seat six to eight additional guests. Eight-foot bronze characters host the fanciful feast.

Mongeon has titled the new sculpture of the Mad Hatter tea party, "Move One Place On." The title reflects the Mad Hatter's announcement at the tea party prior to everyone changing places. The artist hopes visitors will develop the tradition of shouting the proclamation and changing places on their visit to the sculpture at the park.

The Texas park (The location will soon be announced.) and the sculpture will be a "destination spot" for those in Texas and the fans of the endearing story of "Alice in Wonderland." Visitors can bring their picnics, sit at the bronze table, and share a meal with the monumental figures of Alice, the March Hare, Cheshire Cat, Dormouse and Mad Hatter. In fact, Mongeon created each character to interact with the visitors at the table. That means that you and your family, as a curious guest, complete the scene.

You won't need reservations for the most imaginative dining in Texas. However, if other guests occupy the Mad Hatter scene, there is still much to do as Mongeon is also creating a treasure hunt within the sculpture. In honor of the sesquicentennial Mongeon is placing 150 different elements within the scene. Look carefully, and you might find a hiding Humpty Dumpty and the waiting White Queen tucked into the wooden bark legs that make up the table and benches. To learn more about the treasure hunt and receive hints about the 150 hidden items in "Move One Place On" visit Bridgette Mongeon's website at https://creativesculpture.com or follow the process on Facebook http://www.facebook.com/FindingAliceSculpture
Mongeon expects to complete and install the sculpture late 2016.
________________________________________
For more information concerning this press release contact:
Artist— Bridgette Mongeon 713-699-1739 landline
A video featuring the process and showing Bridgette Mongeon's work has been created to accompany this press release. Find it on you tube at https://youtu.be/P1J821vwkr8