The Satchel is Almost Complete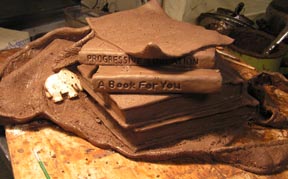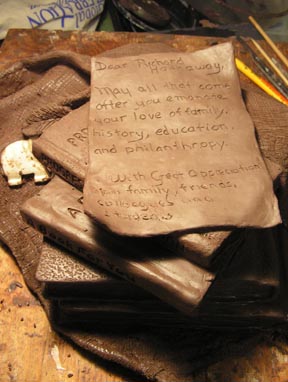 The satchel is almost complete. The books, with their titles are carved and even the sheet of paper on the top of the satchel has been done.

It reads,
Dear Richard Hathaway,

May all that come after you emanate your love of family, history, education, and philanthropy. With great appreciation your family, friends, colleagues and students.
The elephant and feather are pouring out of the bag. Funny thing is that I have an irresistible urge to put in something round next to the elephant. I don't know if this is a design thing or an intuitive thing. I don't know why a round thing? Either coins or marbles. Why would I pick either one of these? I don't know. Anyone have a clue? Anyone know anything about either coins or marbles relating to Dick Hathaway?
My apprentice needs to do some work on this satchel yet. Not much just clean up some areas, but she is busy smoothing out the Dick's shirt If we could get it done we could actually put this satchel into the mold process. Then on to the bronze.