UPDATE- COUNTDOWN BEGINS!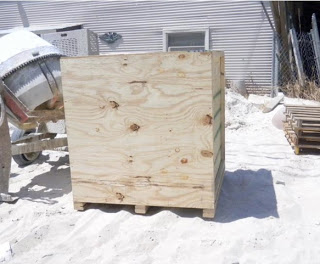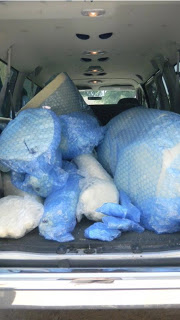 A LARGER THAN LIFE PANTHER IN 18DAYS?
DAY 18-16
*The digital file of the Prairie View Panther has been prepared and sent to my vendor.
*The vendor then sends me an enlarged version of the sculpture milled out in foam. I'll post some of their pictures of
their process when they arrive, but on to the studio process.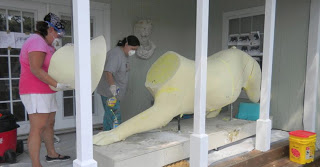 *The foam pieces arrive in a box. Then we must put them all together and mount them on poles for stability. The poles are on a sculpture stand that we can roll into the studio.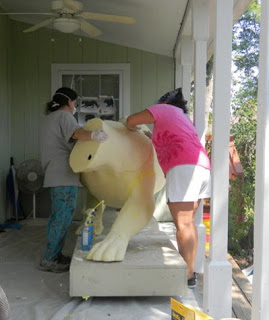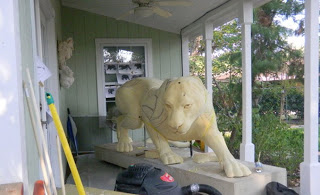 The temperature is in the 100's here in Houston,Texas where my sculpting studio resides, but the foam is gritty and makes a mess, so we opt for working outside. I'll be sculpting into this foam to add detail and shape, before we cover it in wax.
* There are hundreds of reference photographs that we must keep from blowing around the yard.
We can hardly wait to get the panther together to see the size. The neck came in a later shipment adding to our anticipation.
* The Sculpting process begins. The foam is soft and allows me to carve into it before we add the clay. The foam piece becomes the armature that the clay will be added to. Muscles are sketched in and now I begin the process of roughing in the body. Friday 3 people are schedule to put the two layers on the foam. one is wax to seal the foam the other is clay. I hope I can be ready. These are long gritty days. I could use some Prairie View A & M cheers here. Just 16 days before I am hoping to get approval.
* That is a big cat! I removed his ears for the time being so that I won't accidentally knock them and break them.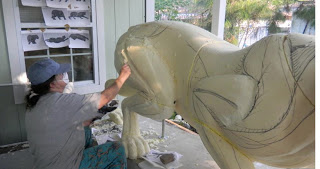 This is a sculpture for Prairie View A & M University in Prairie View, Texas of their mascot the Prairie View Panther.  The entire process is being recorded on a special blog designate for this project and can be found at http://www.prairieviewpanther.blogspot.com/