Welcome to The Studio Layne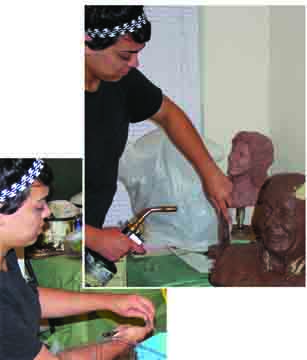 Introducing my newest apprentice. This is Layne she is a senior at Lamar High School. She is also on the teen council at the Contemporary Arts Museum of Houston (CAM). That brings back memories. My daughter was on that council when she was in high school. I believe it was the first Teen council. It is a great opportunity for an artist. They put together events and host a youth art show. It is quite a feather in your cap to be able to say that you showed at CAM. My daughter Chris was on Teen council in 2000. In those two years the council hosted two shows. Faux, Foe, Pho and Lather Rinse and Repeat. Someday I must post the funny story that goes with Christina's artwork.
When I asked Layne, why she wanted to work in the studio she said, "Good opportunity to expose myself to a different type of art, one that I have never done."
Some exposure. Her first night I showed her how to scrape clay off of the floor. Yes, a mundane task, but it must be done regularly or clay gets tracked into my home. And there can come a point when you can't walk in the studio because your feet stick. While I showed her how, she helped prepare some sculptures to leave the studio, and mounted a bronze on a wooden base.
All apprentices come in and clean up the mess I made the night before. I work diligently to get things ready for them to work on. Right now it is the life size sculpture of Dick Hathaway. That will be "our" project for the fall/winter. I try to be neat about it, but I guess the creative process takes over.
The clay that I work with is used over and over, so we are always cutting the clay off of the previous sculpture to be melted down, and once cut off we go through each piece to make sure it is clean enough to be put in the pot.
Once all of the mundane chores are done, Layne sets into sculpting the clay satchel that Bryan was working on. I could tell she enjoyed working in the clay, though the tools take some time to get used to.
Welcome Layne!