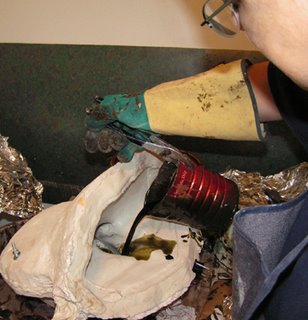 The next step in the foundry process is creating a wax. I have the ability to pour small wax pieces at the studio, but most of the time I send the molds to the foundry for them to pour the waxes. Lucas is at the foundry now.
I have decided to pour the wax of Jeanine at my studio. It is small and I really like the green wax that I pour in. After the mold is made and cleaned, as shown in the previous post, then it is sprayed with a mold-releasing agent.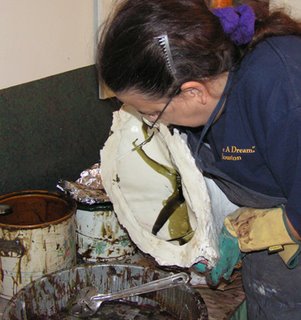 There are two crock-pots with melted wax in them. Each is at a different temperature. I will be pouring three layers with this wax. The first layer is hotter than the other two. It captures the details. The wax is poured in and then I carefully swish the hot wax around the inside of the sculpture. Trying to maneuver this mold is sometimes difficult; because of the weight of the plaster it takes some muscles. The other two layers are poured in the same way. Once the wax cools I can pull the wax from the mold. If I have made the mold correctly there will not be a problem with pulling the wax from the mold.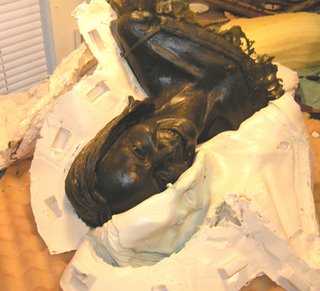 When complete I have a thin, hollow wax replica of my original piece. My apprentices and I will be doing a little more work on these waxes before giving them to the foundry and I'll have the opportunity to tweak the pieces a bit more. I will do this with the Dick Hathaway sculpture as well. Working the waxes saves a bit more money on the foundry costs.