Working Through Presentations- Daz-Poser-Zbrush-Part 1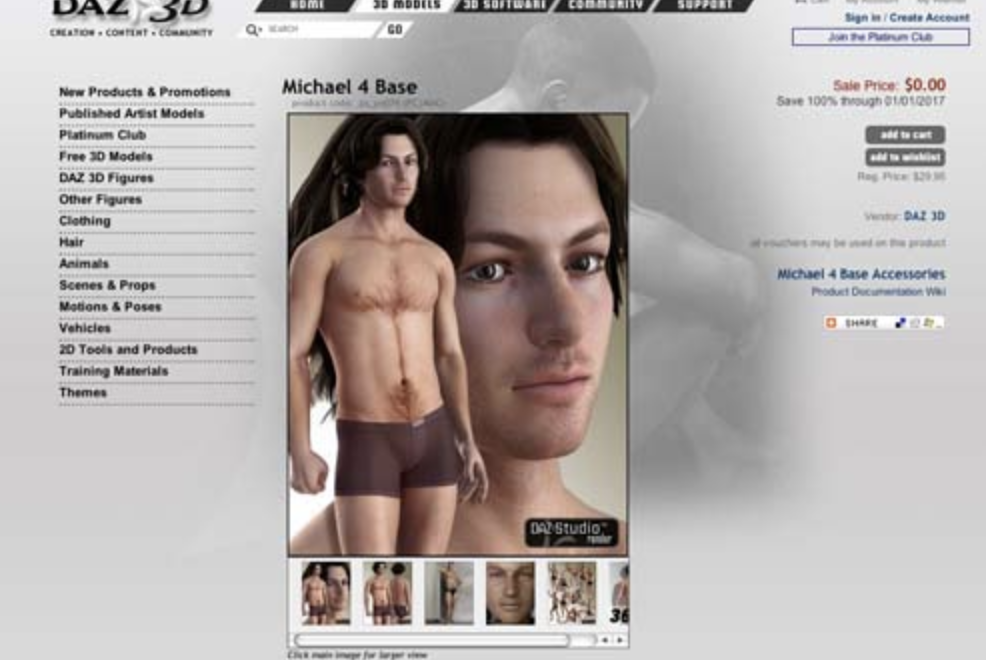 Poser– In my life as a sculptor I rarely do to show clients, not hand drawn sketches. But over the past years I have begun utilizing 3D resources for presentations. I have mentioned this before in my blog and also talked about it in some of my online videos. I am presently trying to come up with a design for a figurine of a person playing ultimate Frisbee.
Of course the first place I turn to when I am creating these type of presentations, if I don't already have what I need, is Daz. I liked the Michael model as he had the youthful appearance I was after. Plus he also came with many different things. And to discover he was free was a plus. Of course I also invested into his clothes, as I felt these would give me the closest look to an Ultimate players clothes. The model posing set for this was definitely worth it as it comes with individual arm, and leg poses.  Of course if you have worked with Poser you can pose the model yourself, but it is much easier to do that if the model is close to what you want, then you can tweak it as necessary.
I must say my  Poser 7 was giving me a little bit of a trouble if I tried to pose these two characters individually and then merge them-crash after crash.  I was much better to pose one then bring another into the scene in neutral position to pose that one. I should probably choose to use the free daz program, and I have downloaded it but I am quicker at Poser.  I am not sure that upgrading to Poser 8 will make much difference for me.
I am working with a couple of different designs with this piece. I really want to get the main character off of the ground. Flight seems to be such a big part of ultimate. However, flight is hard to do when you are working with bronze. Sure, I can have him coming up into flight with a foot touching the ground. But that is something that must be engineered. Depending on the size and weight of the piece it can be a nightmare.
After watching hours of ultimate video and stopping and rewinding, I decided I could have my main character "secured" in flight to another person. Especially if they were kind of body slamming. So this is the beginning of one design using Poser. I know my client may like to have just the one figure in the piece, but I think having two really adds the action to the sculpture.
I'm not sure why Poser is giving me the "banding" on the pants. But I have future plans for this presentation before the client sees it. Stay tuned- more cool stuff coming in the next posts.
Her blog can be found at https://creativesculpture.com.
She is also the owner and creator of the God's Word Collectible Sculpture series
Follow the artists on twitter twitter.com/Sculptorwriter twitter.com/creategodsword
Facebook http://www.facebook.com/bridgette.mongeon
Listen to The Creative Christian Podcast or the Inspiration/Generation Podcast Click on Podcast Host Bios for a list of all podcasts.
Listen to the Art and Technology Podcast