A Great Book On 3d Printing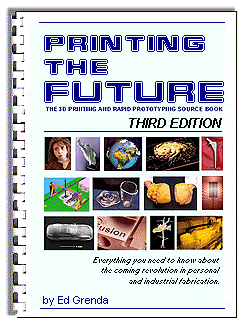 I just wanted to tell you about a book that has really helped me in my graduate studies. I hesitated in purchasing it because it was a little on the high side and the binding and photograph shown did not really make me feel confident in the contents of the book, but don't let that fool you. Ed Grenda really knows his stuff, and I don't think there is anything about 3d printing that is not in here. As long as he keeps up with the technology with further editions I would say it is a must for the shelf of any person interested in 3d printing. Plus his web site has numerous articles and boo koos of information. ( it also does not look very professional but don't click away too soon. It has a wealth of information.) I was privileged to talk to Ed last week about some of my questions and my own research and he gave me some wonderful leads, which I will be sure to pass on here.
I also invited him to let me interview him for a podcast, should we decide to start up the art podcasts and talk about 3d, ( Which I am very excited about.). Anyway. Thumbs up on this book. I would highly recommend it.