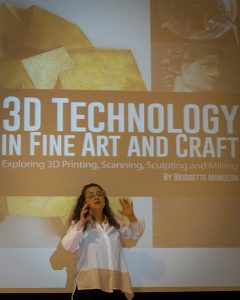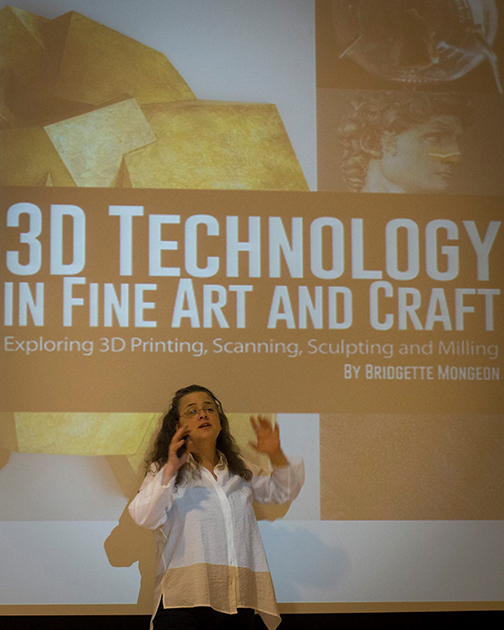 This past week, Penn State University, The Behrend College invited me to Erie PA to speak on my new book, "3D Technology in Fine Art and Craft: Exploring 3D Printing, Scanning, Sculpting and Milling
" I also shared about my new project of a monumental sculpture of Alice in Wonderland's Mad Hatter Tea Party. The processes I am using on the Alice sculpture are the same processes I cover in my book.
My host was Heather Cole from Penn State's new interdisciplinary degree major- Digital Media, Arts, and Technology. My visit was supported by the Endowment Fund. Penn States interdisciplinary degree combines the broad perspective of the liberal arts with technical skill. The Penn State website describes the Digital Media Arts, and Technology major. The students study technology history and theory at the same time they are learning to use the newest programming languages, digital tools, and computer systems. I'm thrilled that this program is looking at using my book as a textbook for Digital Media, Arts, and Technology major.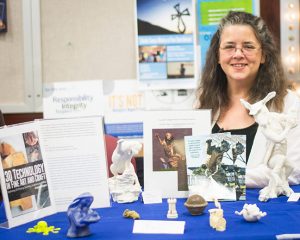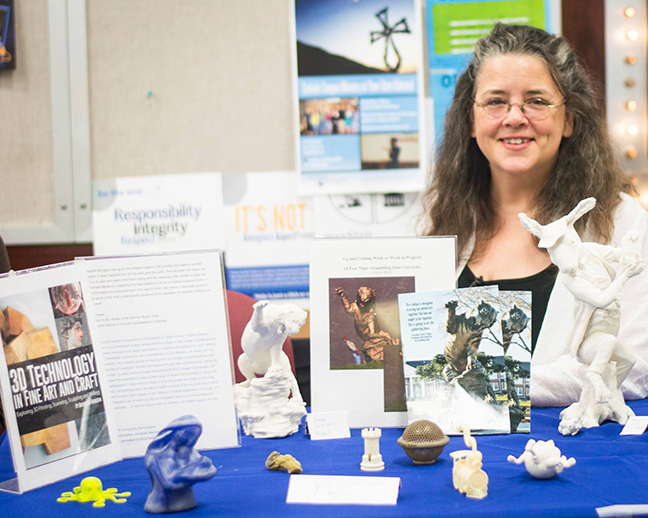 There were both students from the campus and others from art groups in the area that attended. Many students from the engineering department were also in attendance, in fact, when I asked how many students in the arts that there were in the audience, 1/3 of the audience raised their hands. There were, in fact, more people interested in engineering than those working in the arts. That is no surprise to me. The book and the lecture are very interdisciplinary. I cover such things as 3D printing, and computer numerically controlled machining, digital presentation, and the workflow of a project from digital concept to fabrication. It is a good lecture for both those in the art, those studying engineering, architecture, design, industrial design and more.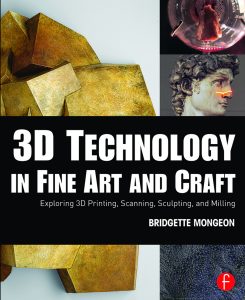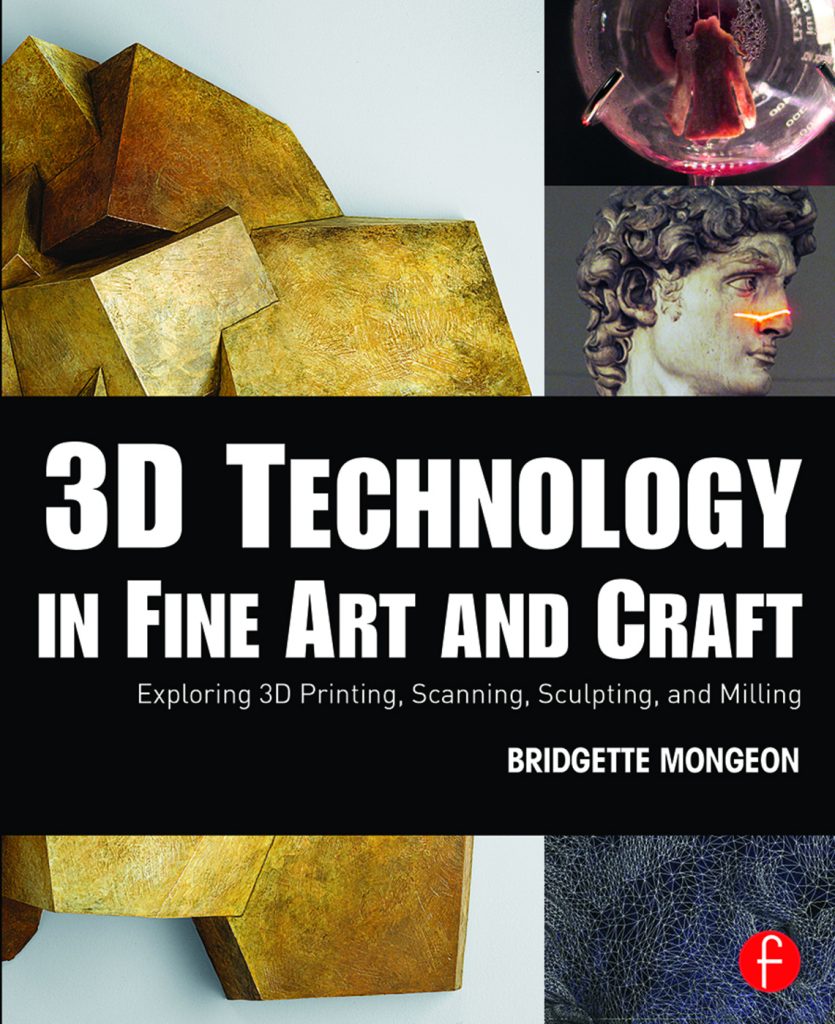 Along with the book signing, I had samples of the 3D prints created by 3D RP of the digital design that I used to create the 15-foot bronze sculpture of the Grambling Tiger. 3DRP also created a 3D print of the March Hare. He is a bit stained with clay as we have been looking at him constantly while we are making the 8-foot tall sculpture. Other examples that I brought of 3D printing were some 3d printed bronze by exone. Some 3d printed wax jewelry, articulated pieces and 3d prints that are examples of the great detail you can get from the different types of 3d printing and 3d printing of objects inside of other objects.
Of course, there were plenty of Alice in Wonderland pieces that I was showing and I encouraged attendees to follow along with this newest project on the Finding Alice Facebook Page. And I always try to have other materials that attendees can take home like a list of all of the contact information such as:
 A description of the website created for the book at digital

sculpting.net

that has further information will hold tutorials and has podcasts about art and technology.
There is also a Facebook page for the book. These are created for others to share their work. It is a place where others and I can address questions that people have about the technology and processes, I also encourage vendors to come and share their processes and expertise.
Brochures from my vendors like Shidoni foundry, my ( CNC) Computer numerically controlled milling companies such Synappsys Digital Services and Across the Board Creations. The video of milling by Synappsys was a big hit in the presentation, and you can see it for yourself on you tube. (Fast forward to about the two minute mark.)
The Digital Media, Arts, and Technology Department brought their MakerBot fused deposition modeling (FDM) 3d printer and had it running. Many thanks to Heather's Bread and Circus Club at Penn State who monitored the table while I was in giving the lecture.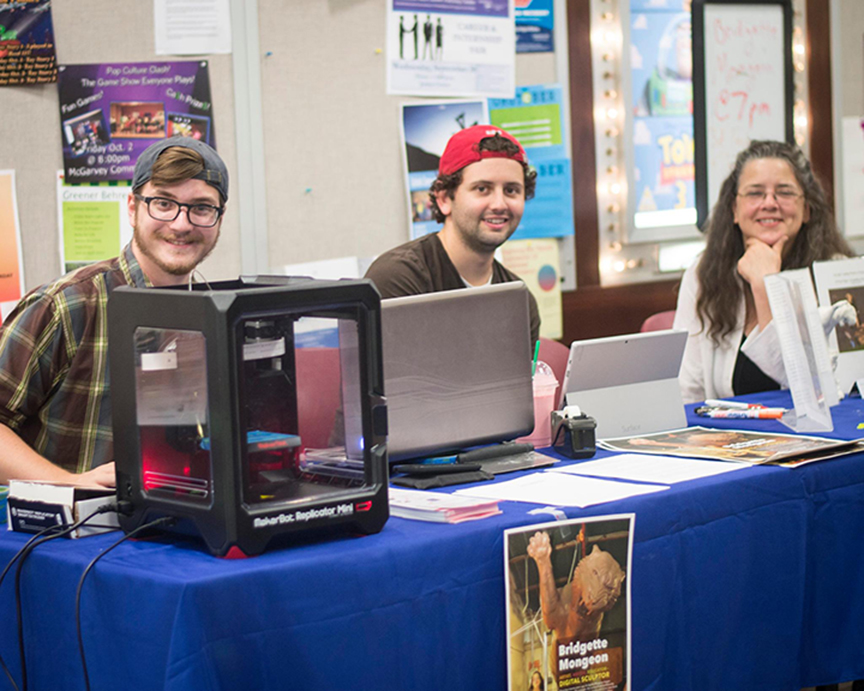 My daughter created a wonderful banner for my new speaking engagements, and we had that outside the auditorium.
The attendance was great, the hospitality and the quaint campus a pleasure to visit. The next day on my way back to Buffalo for my next engagement, I took a short jaunt to Presque Isle state Park. It was a lovely little side trip. I drove through the park, looked at the wildlife and learned about the Battle of Lake Erie, from which came the saying "We have met the enemy, and they are ours." The Penn State Library with their intriguing exhibit complete with a replica of the ship was my first introduction to the-the battle of Erie and Master Commandant Oliver Hazard Perry.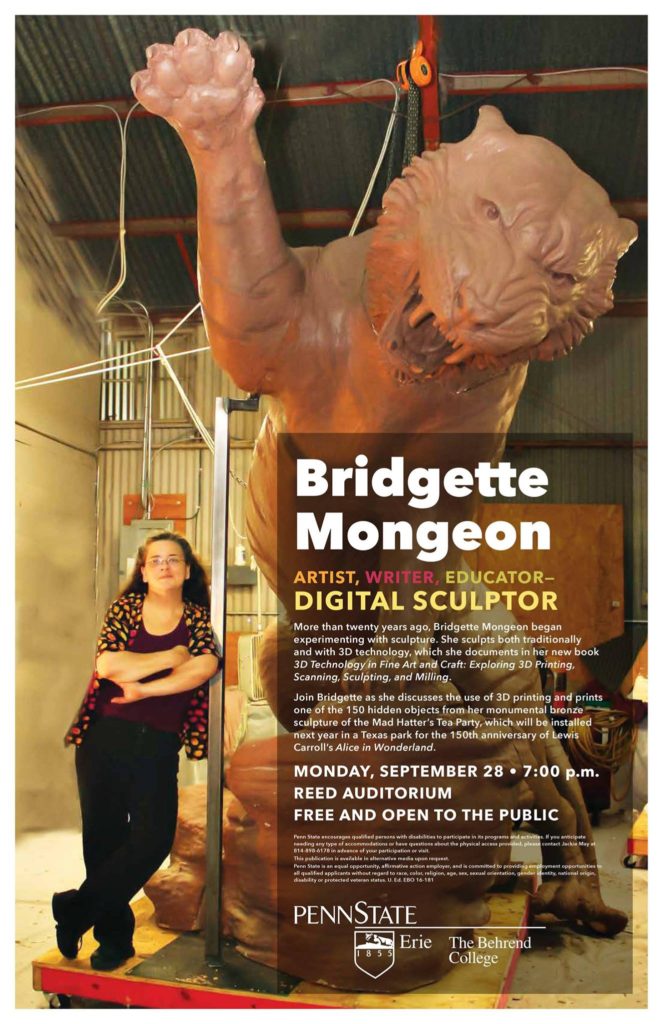 Thanks, Penn State University, The Behrend College. I look forward to helping your students through the various resources mentioned above. Who knows, maybe their work will be in the next edition of 3D Technology in Fine Art and Craft: Exploring 3D Printing, Scanning, Sculpting and Milling
.
If you are interested in having me come to your University or group, please contact me through my fine art website. I am traveling around quite a bit and would love to come and talk.
Bridgette's presentation excellently conveyed the practical aspect of 3D modeling. Being able to see the models she created come to life in a real physical project was very inspiring.

Will Gerould- Student

I was thrilled about the broad turn out of students and community members that were in attendance. Bridgette did a wonderful job of covering the subject from an interdisciplinary approach and I think many came out with a better understanding and appreciation of the work involved.

Heather Cole- Instructor Digital Media, Arts, and Technology

Heather, thanks for bringing Bridgette, it was a great glimpse into the life of a professional artist and some amazing technology.

Dr. Chris Coultson- Professor School of Engineering.