Art And Technology Podcast – Foundry of The Future
An Interview with Paul Effinger – Foundry of the Future Art and Technology 0005
Paul Effinger is a digital sculptor who is exploring different methods of bronze casting other than the lost wax method of bronze casting.  He is exploring z corp printing in a cellulose powder, infiltrates and others.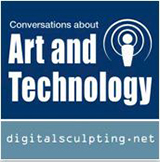 Effinger worked 13 years in the gaming industry creating for published titles as lead Character Artists and Animator and contributed to many others as an independent contractor. He strives to see some of his creations into physical forms and loves the feel of bronze. This has caused him to explore in different areas of 3d printing and investment casting. The processes and pitfalls of 3d printing are featured in chapter 7 of the Mudbox book.
( Paul is featured in my 2015 book 3D Technology In Fine Art and Craft: Exploring 3D Printing, Scanning, Sculpting, and Milling.
LISTEN NOW from your browser
* Listen to the podcast from our podcast player on the nav bar at Digital Sculpting.net
* The direct link to this podcast segment- should you want to put it on your website or blog
____________________________________________________________________