More Interviews With Creative People
For those of you who do not know, besides sculpting and writing I also create podcasts. I'm about to expand on these podcasts. What can I say, I love a good interview.
Our new podcasts will be from those working in 3D. We are talking to all sorts of people from those using new tehnology to create fine art to those creating images for movies. I'm thrilled with this new endeavor. I predict the podcast will start in the next few months as it is a part of our book deal with Focal Press that we have a website on the subject. So be sure to watch out for www.digitalsculpting.net. Creating the site will be so much fun as there is additional information that I have found with both my graduate research and the writing of the Mudbox book that I am wanting to share. And the interesting people who are working and leading this technology are so much fun to chat with. Why not do that for a podcast?
The podcasts that I have done for the past almost two years are inspirational. They are sponsored by my God's Word Collectible gift line. Inspirations/Generations has added a new segment called Inspirations/Creative Christians. We are interviewing creative Christians to learn about their faith, process, inspiration and other things. You can find all of our podcasts on the God's Word Collectibles website. Or on our God's Word Collectibles Facebook Fans page.
The Creative Christian podcasts are depicted with " Creative Christians" in the title. Here is a description of our recent Creative Christians podcasts. If you would like to listen, just click on the links. I you want to subscribe to this Inspirational channel in itunes you can do so by following this link.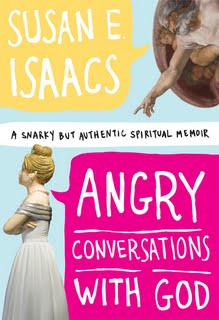 What is to come with the Creative Christians podcast? We are presently working on securing interviews with the following people. Skater- Scott Hamilton, Singer- Alice Cooper, Loni Lamb and many more.
Recent Interviews
Creative Christians-Interview with Author and Actor Susan Isaacs
Creative Christians Podcast continues in an interview with Author and Actor Susan Isaacs. Susan shares her disappointments in her creative Christian journey as well as her revelations. Anyone who wonders where God is in their creative journey should listen. (Inspirations_0049 58.24 minutes)
Of course we also interviewed Susan about her book on our regular podcast.

Book Review "Angry Conversations with God."
Susan Isaacs shares her stories behind her new and humorous book "Angry Conversations with God- A Snarky But Authentic Spiritual Memoir." (Inspirations_Generations_0048 30 minutes)
Creative Christians-Helpful Insight and Tips from Christian Business Manager Michael Smith.
Michael Smith of Michael Smith and Associates http://michaelsmithandassociates.com talks about managing Christian artists and gives some hints and suggestions to those wanting to get noticed in the business. An incredible interview with a man of incredible integrity. Michael Smith and Associates represents- Jaci Valsquez, Salvador, GoFish, Brad Stine, Aaron Wilburn, The Lads, Yancy, Tyler Dodds and the God Men conferences as well as Right Minded Records and Pure Blue Record Labels. (Inspirations_Generations_0047 44.46 minutes)