New Art and Technology Podcasts Are Coming. Here Is A Bit About Our First Guest.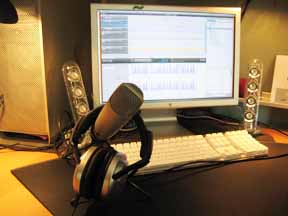 We have been working hard all weekend to set up a new community at digitalsculpting.net. It will be a portal of information, tutorials, galleries etc on digital sculpting and the technology surrounding it. I encourage everyone to join. It is huge and will continue to grow, with people and information. You can create your own profile, blog, gallery etc.
As part of this information community we are starting a new podcast titled,
Art and Technology
"A fire side chat where innovation, creativity, technology and science meet."
We are just waiting for our introduction by Jazz Legend Harry Sheppard, and then our podcasts will be up. I expect that to be next week sometime. In the mean time, here is a little about our first guest, Robert Michael Smith.
Robert Michael Smith
A complete bio follows:
Robert Michael Smith is a digital sculptor and Associate Professor of art and technology at New York Institute of Technology Fine Arts Department. Smith is also NYIT Middle East Fine Arts Computer Graphics Coordinator for Global Exchange Programs at Amman, Jordan; Kingdom of Bahrain, and Abu Dhabi, United Arab Emirates. Recently Smith has established a collaborative digital art gallery at Beijing, China.
Smith has been an active pioneer of digital sculpture, 3D visualization/animation, Web design, virtual sculptures for the Web, virtual actors for computer gaming, as well as a significant art and technology educator. During 1999-2003 Smith was a Board Director for Manhattan chapter of SIGGRAPH. Smith was the Web Director of www.sculpture.org during 1997-2003 and a Board Director of the International Sculpture Center during 2003 -2005. Smith is President Emeritus of the Sculptors Guild, and a founding Board Director of Digital Stone Project.
Smith previously taught throughout New York City at Pratt Institute, School of Visual Arts, The New School for Social Research, Parsons School of Art & Design, The Sculpture Center, as well as University of the Arts at Philadelphia, University of North Dakota, University of Hawaii at Manoa, and San Jose State University. Smith has also been a guest lecturer at numerous universities, international conference
s, and featured in several international articles and books including two chapters, "Digital Imaging" and "Digital Sculpture" in the recent Thames & Hudson publication "Art of the Digital Age", by Bruce Wands.
Smith's sculptures and digital art have been exhibited at prestigious New York City, NY venues including:
Sculpture Center; P.S. 1 Contemporary Art Center; Asian American Arts Center; Blum Helman Warehouse; and
The Corning Gallery at Steuben; The Rubelle & Norman Schafler Gallery, Pratt Institute, Brooklyn, NY; as well as National venues including: Pittsburgh Center for the Arts, Pittsburgh, PA; Chesterwood, Stockbridge, MA; Grounds for Sculpture, Hamilton, NJ; Rockland Center for the Arts, Nyack, NY; FermiLab, Batavia, IL; Exploratorium, San Francisco, CA; Downey Museum of Art, Downey, CA; Tucson Museum of Art, Tucson, AZ; Honolulu Academy of Arts, Honolulu, HI; Sculpture Tour, University of Tennessee / Knoxville; Nave Museum, Victoria, TX; Leigh Yawkey Woodson Art Museum, Wausau, WI; North Dakota Museum of Art, Grand Forks, ND; Muskegon Museum, Muskegon, MI; Tyler Museum of Art, Tyler, TX; Edwin A. Ulrich Museum of Art, Wichita, KS; University of Alabama Art Gallery, Birmingham, AL; The Alexandria Museum, Alexandria, LA ;The Plain's Art Museum, Moorhead, MN; The Rourke Art Gallery, Moorhead, MN; Hillwood Art Museum, Brookville, NY; Southwestern University, Georgetown, TX; Robert Fullerton Art Museum,
San Bernadino, CA; The Alexandria Museum.
Alexandria, LA; University of Oklahoma Museum of Art, Norman, OK; Alaska State Museum, Juneau, AK; University of Alaska Museum, Fairbanks, AK; Anchorage Historical and Fine Arts Museum, Anchorage, AK; Fine Art Museum of the South, Mobile, AL; Gaston County Museum,
Dallas, NC; West Bend Gallery of Fine Arts, West Bend, WI
International exhibition venues have included: Art Cologne, Germany; Supermarket 2008, Stockholm, Sweden; Foresight Art Center, Amman, Jordan; Museum of Science and Industry, Manchester, England; Museo de Monterrey, Monterrey, Mexico;
UTS Gallery, Sydney, Austr
alia; Yeditepe University, Istanbul, Turkey; Snowhite Gallery, Aukland, New Zealand;
Taiwan Museum of Art, Taichung, Taiwan; Kaohsiung Museum of Fine Arts, Kaohsiung, Taiwan; Queen's Square, Newcastle upon Tyne, England; Galleria Arte Mod
erna, Forte di Marmi, Italy; Gallerie Graphe, Paris, France;
Conseil Général de Meurthe-et-Moselle, Nancy, France; Isla Center for the Arts, Mangilao, Guam.
During 2008 – 2009 Robert Michael Smith was a featured artist along with Bruce Beasley, Jon Isherwood and Kenneth Snelson in "Digital
Stone", an exhibition sponsored by Autodesk that toured at contemporary art museums throughout China, including Beijing Today Art Museum, Shanghai Duolun Museum of Modern Art, Jinse Gallery at Chongqing, and Art Map Gallery, Wenzhou. A sculpture by each artist was purchased for the permanent collection of China National Museum of Fine Arts at Beijing.