I'm delighted that the National Sculpture Society invited me to participate in education at the National Sculpture Society Conference June 26-28, 2015.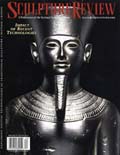 In 2007/2008 I wrote an article about combining traditional and digital technology called Exploring Digital Technologies as Applied to Traditional Sculpture and a sidebar on Shan Gray's sculpture The American . The magazine that I wrote this for is Sculpture Review – a publication of the National Sculpture Society.  All those years ago  I was working on a degree combining 3D technology in fine art. This type of degree was not even heard of and would not have been possible without the support of Goddard College Master of Fine Art in Interdisciplinary Arts degree.   Eight years later, my book titled 3D Technology In Fine Art and Craft: Exploring 3D Printing, Scanning, Sculpting and Milling by Focal Press is being published, and I'm headed to the National Sculpture Society Conference to discuss these topics.
I'll be participating in the conference in  Philadelphia  on a panel- "Hand versus Computer." I'm accompanied by some incredible artists.
The panel consists of Sabine Howard, George Nista, Simon Indrele, Sandis Kondrats, Jim Licaretz, and me Bridgette Mongeon. Once again, I'm the only female on a panel talking about technology. Tuck Langland will be moderating the panel.
Though the Society Conference has me listed for the book signing, my book won't be ready. It is coming out in Sept, but is available for pre-order on Amazon. So, technically I won't be able to participate in the book signing. However, when I'm not on the panel, I'll be in the vendor area. I'll be talking about the process of creating the Grambling State Tiger featured in the book, the many different technologies and the artists that I featured in the book. Of course, I'll also be talking about my new book and art project of Alice in Wonderland Mad Hatter Tea Party. This new project is pushing the combination of art and technology to the max. Check out the video below or on YouTube. My time in the vendor area will be like my interactions at 3D Printer World Expo 2015, 2014.


Thank you Focal Press for believing it is time for this type of book.It took a long time to convince a publisher to publish a book on the topic of art and technology. I also want to thank them for supplying me with a sample of the book prior to the release date so that I can have it for this conference. The book is available on Amazon but, the actual release of the book is September 2015.

There is still time to register for the conference. Also stay tuned. I'm trying to podcast with some of the participants from the conference for the art and technology podcasts. I'll either do this before if we can fit it in or after. But, as always, keep checking the book's website as I podcast monthly with those working with art and technology. You are also welcome to use the podcast episodes on your website or ezine.

If you are going to the conference and want to set up a fireside chat around some drinks or a meal, I'd love to organize one. Just let me know. We did this at 3D Printer World Expo and those participating found it helpful. And as usual you can share your own work on 3D tech and fine art projects and questions on both LinkedIn and Facebook. I'll be glad to help!
See you in Philly!